The Eco Explorer's Club
SSE Airtricity are really excited to educate and engage both parents and kids alike with their new Eco Explorer's Club. Through their Sustainability partnership with Dublin Zoo and the help of their friends, they are now giving pupils and parents access to a range of tools and resources to learn without having to leave home.
Featuring educational videos, Draw with Don Art Class with Don Conroy, Instagram Live Storytelling with Reuben the Entertainer & SSE's Mia McCarthy, Imagination Children's Yoga, and an amazing Virtual Eco Explorers Tour at Dublin Zoo.
Join them across the next 10 weeks every Monday, Wednesday, and Friday at 10am over on their social channels Facebook, Instagram, and Youtube. You can also catch up here on their page.
This weeks timetable:
– Monday: Learn how to protect biodiversity with a new animated episode in The Eco Explorer Club series.
– Wednesday: It's Storytime! Join Reuben the entertainer and SSE Airtricity's Mia Fahey McCarthy to learn and laugh.
– Friday: Come along to Dublin Zoo on a virtual tour.
Check out: SSE Airtricity Biodiversity Resources for Kids for more details….
Biodiversity all around you…..
Please try to keep an eye out for bugs, birds, plants and trees within your 5km area and record what you find, you can download our record sheet here: https://tinyurl.com/ybzmlngh .
LEAF Ireland have also created a new Plant Spotter Sheet for May, you can download it from their resources section on their website: https://leafireland.org/resources/ . If students are celebrating biodiversity this week, they would love to see what they have been up to while staying #SafeAtHome.
This week their theme is butterflies and how to attract them into your garden.
Below are some suggestions to help get to know butterflies, caterpillars and the habitats and plants they need to live.  Feel free to pick just one of the activities to do this week.
Explore your garden or the meadows, woods and parks in your 5km walk.  Watch out for butterflies visiting your garden or on walks in the month of May.  Print the Caterpillar sheet attached and go exploring in the long grass.  These include some moth caterpillars too.  Make sure to not harm or disturb any creatures that you meet.
Identify:  Print the Butterfly Spotter Sheet attached.  Some are more likely to be found in open meadows and grassland, eg. Meadow Brown and Small Copper.  Others like to live at the edges of woodlands, e.g.. Speckled Wood, Holly Blue.  If you leave parts of your grass lawn un-mowed at this time of the year, you are likely to find they will visit your garden.
Learn which plants are important to have in your garden to attract butterflies to drink nectar, to rest and to lay their eggs.  Also, there are specific plants the caterpillars feed on once they emerge. This is a good article which explains some of this: https://www.irishexaminer.com/lifestyle/outdoors/save-our-butterflies-454858.html
Observe the butterflies that visit your garden.  What temperature is it?  What time of the day is it?  Are they resting, feeding or flying by?  What colours are they?  Were they in the full sunshine or the shade?  Count how many you see.  Take photos if you can without disturbing them, if they stay still long enough!
Record:   Carry out a simple survey to record.  Biodiversity Ireland have a Garden Butterfly Monitoring Survey and the link is here:
https://www.biodiversityireland.ie/projects/monitoring-scheme-initiatives/butterfly-monitoring-scheme/garden-butterfly-monitoring/
Draw and Make:  Fill in this picture with colours.  It shows the life cycle of the small tortoiseshell butterfly and how it lays its eggs on nettles.  Use the attached template of a butterfly to make a mask.
Planting Project:  If you are growing herbs in pots or your garden, the sheet attached is from www.pollinators.ie is a handy guide to let you know which ones are likely to attract butterflies (as well as other pollinators)
Garden Project:  Some butterflies lay their eggs on very specific plants and when their caterpillars emerge, they feed on this plant.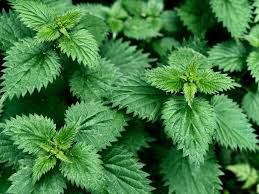 Nettles are the main food plant for the following butterflies – Small Tortoiseshell, Peacock and Red Admiral.  So it is really important to have a nettle patch in the corner of your garden.  You can cut it back later in the summer to stop it going to seed, or even better – collect the seeds as they are edible and really good for your skin and hair!
Grow a Butterfly Nursery
https://www.biodiversityinschools.com/grow-a-butterfly-nursery.html
If you do some of the following, you are likely to attract a range of butterflies to your garden:
Plant a mixed native hedge, with Hawthorn, Crab Apple, Holly, Guelder Rose, Spindle, Elder, etc.

Leave some of your grass un-mown and see what wild plants come up – many of these will either feed the butterfly as an adult or the caterpillars as they emerge

If you find after a year or two that your lawn/meadow has low plant diversity, consider introducing some native plants.  You will have to get plugs, as seeds will not be able to compete with the grass to germinate.  Make sure they are native sourced.

Create a small pond, which butterflies and other creatures will visit, as they all need water to survive

Remember that butterflies feed and breed on a wide range of native plants.  They also feed on many cultivated herbs and garden plants.  So the more plants you have in your garden that flower over a period of time (Early April – Late October), you are likely to have many species visit your garden

Knapweed is a purple wild flower that butterflies love

Holly and Ivy:  The Holly Blue will lay her first brood on the holly early in the summer and will lay another brood on ivy later in the autumn, so they need both of these plants to be close together

Wild Grasses:  Many butterfly species lay their eggs on wild grasses, so that is why it is good to have more than the usual perennial rye grass in your lawn.  If you change how you mow and rake away any grass cuttings, they will come by themselves over time.

Cuckoo Flower/Lady's Smock:  The Orange Tip will feed and lay her eggs on this meadow plant.  It grows in damp lawns and is flowering in April/May.  This butterfly also likes to feed on Hedge Garlic.
All week, LEAF Ireland are celebrating biodiversity, in particular our forests and woodlands which are vital habitats and support a huge array of flora and fauna. Did you know about 28% of our bird species are considered as woodland species. They are sharing more Tree Facts videos this week across their social media channels, be sure to check them out!@LEAFIreland